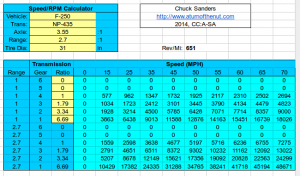 Over the years, I've developed my own spreadsheet for doing axle and speedometer gearing calculations.  It started in Excel, and now lives in Google Drive:
Please feel free to copy or download this calculator – like the rest of the site, it is shared under a Creative Commons license.
Features:
Supports up to six speeds, plus two ranges
Calculates speedometer drive gear for Fords, including speedometer error.  (This will work for some other makes as well.)
Shows the RPM after shift for each gear shift
How to Get Your Copy:
If you're already a Google Drive user, click the "File" menu, and "Make A Copy."  This will give you your own copy, which you can edit at will.
If you're not a Drive user, you can click "File" > "Download As" to get a copy in the spreadsheet program of your choice.  You might have to do a little cleanup work to make it pretty again, but everything should work.
Instructions for use:
Fill in the (yellow) blanks with your information.  Vehicle and Trans fields are only there so you can keep track of your results if you choose to print this out.
Axle field should be obvious.  If you're using a portal axle (Unimog, H1, aftermarket, etc) you'll need to put your total axle gearing here, not just your differential gears.
Range can be 0 for single range cars, or the ratio in your transfer case for four wheel drives or trucks with splitters.
Tire diameter is in inches.  Your equivalent tire revs per mile will show on the right for the tire diameter you enter.  If you are going primarily by a manufacturer's rev/mi figures, I'd recommend guessing your diameter until you get Rev/Mi correct as the fastest method.
Enter your transmission's gear ratios in rows 11-16.  Unused gears can be left at "0".
If you need revs at a specific road speed, you can easily change the speeds in row 10.  Engine revs below will change to suit the speeds you've entered.
Entering your shift point in row 38 will show you your road speed for each shift, RPM before and after, and % drop in RPM.
I've found this spreadsheet very useful over the years, and hope you do, too!  Please, feel free to leave any questions in the comments below.